WorkSmith Meeting Tables
Designed by Rainlight
Designed to support the makerspace movement and its influence across businesses, schools and healthcare facilities, WorkSmith is comprised of artisan-style objects that add a more human element to spaces. Pieces work together or independently to create a place where people with shared interests can gather to work on products while sharing ideas, equipment and knowledge.
WorkSmith Meeting Tables 09
WorkSmith Meeting Tables 10
WorkSmith Meeting Tables 11
WorkSmith Meeting Tables 12
WorkSmith Meeting Tables 13
WorkSmith Meeting Tables 14
WorkSmith Meeting Tables 15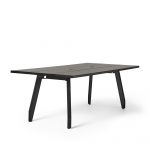 Planked and non-planked tables manufactured in ash wood species and offered in solid wood, veneer and laminate.
Clear glass top also available on select sizes.
29″, 36″ and 42″ table heights.
Solid ash wood or cast metal leg options.
Solid ash legs offered on all table heights. Cast metal legs offered on 29″ and 42″ table heights.
All legs are assembled with cast metal shoulders in textured matte black finish and feature wood support beam attachments.
Various power units available to address specific electrical and/or data preferences.
Starting list price = $4,507.
Over the past 2 decades, Rainlight has focused on corporate, healthcare, educational and residential furniture. Collaborations with a broad range of furniture clients, from large multifaceted corporations to small family-owned businesses, their experience spans highly developmental ergonomic task seating to more fashion driven soft seating products. They take pride in solving problems, understanding their clients and providing the best possible solution for their needs.
Additional works by Rainlight