Odette Lounge
Designed by Gower + Woolf
Featuring oversized proportions and comfort to match, Odette is a modern lounge collection that encapsulates the feeling of a warm embrace. Generous seating capacity, expert tailoring and choices in back height, base styles and finish options ensure a place of sanctuary is always within reach.
Odette Lounge 05
Odette Lounge 06
Odette Lounge 07
Odette Lounge 08
Odette Lounge 09
Odette Lounge 10
Odette Lounge 11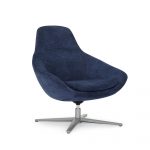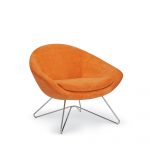 Mid and high back models available with wire rod and swivel base options.
4-prong swivel base manufactured in aluminum, with auto-return as standard.
Wire rod base manufactured in 1/2″ diameter steel and comes standard with glides.
Wire rod and swivel bases available in standard and premium finish selections.
Maximum weight capacity is 350 lbs. for both wire rod and swivel base models.
Starting COM list price = $2,476.
Designed By
Gower + Woolf
GOWER + WOOLF is an American integrative design firm founded in 2021 by Andrew Gower and Paul Woolf Boettiger. With offices in New York and Montana, our designs are the culmination of experience, process and reflection. Our work is built on a shared commitment to simplicity of form, research-driven design and collaborative process. With decades of collective experience from industrial design, architecture, to branding, we approach each project with a sense of wonder coupled with a thorough understanding and appreciation of our craft. We have had the privilege of partnering with companies throughout North America, Europe and Asia, helping to develop successful product lines for their brands. Our one goal is to create thoughtful, beautiful, and relevant designs that are reflective of our time.